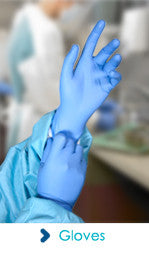 PM 62509 -PRIMED NITRILE NON-POWDERED GLOVES, SIZE X-LARGE
200 per box - 
BARRIER PROTECTION - Nitrile is proven to be an effective substitute for Latex in terms of barrier protection, especially in the healthcare setting; "Despite controlling for the effects of manufacturer and stress, we found that latex gloves were about 3 times more likely to show holes or leak water than were nitrile gloves." *2

ELONGATION & TENSILE STRENGTH - priMED's PrimaTouch® Nitrile gloves have tested well above the ASTM standard D6319-10 (Standard Specification for Nitrile Examination Gloves for Medical Application) in both elongation and tensile strength *3 (results available upon request).

CHEMICAL RESISTANCE - All priMED PrimaTouch® Nitrile gloves have been tested and approved for use with all common chemotherapy drugs *4 (results available upon request). Whereas the use of Nitrile gloves are recommended when dealing with oils, greases, and organic compounds, these substances will easily permeate latex*5.

POWDER–FREE - Powdered examination gloves are made of a chemically cross-linked cornstarch. "The cross-linked cornstarch can abrade delicate tissues in the eye or internal ears and can affect the lungs, especially the underdeveloped respiratory pathways of premature babies and other at-risk patients".

COST - In the past, major health organizations did not convert from Latex to Nitrile examination gloves due to the higher cost of Nitrile. PrimaTouch® Nitrile gloves are a similar price point to Latex gloves. In fact, many health organizations are actually saving costs after switching from a powder-free Latex program to priMED's PrimaTouch® Nitrile gloves.

NEW TECHNOLOGY - priMED's newest Nitrile glove line (PM6-2000 series) is a breakthrough in Nitrile glove technology. The low - modulus design makes the glove feel like a latex glove in terms of stretch and comfort with the added benefit of being latex-free, powder-free, and now chemical accellerator-free!
---
We Also Recommend
---