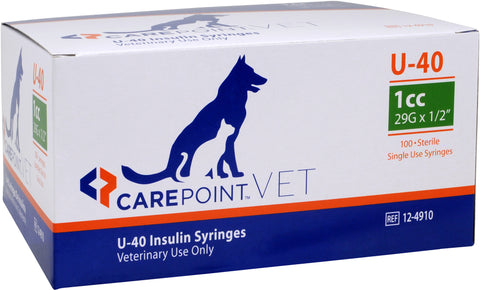 CP 12-4910 BX/100 CAREPOINT VET INSULIN SYRINGES, U-40, 1CC, 29G, 1/2IN (12MM)
The CarePoint Vet U-40 Insulin Syringes are designed to correctly dose Caninsulin and ProZinc. No need for conversions. You can prepare the proper dose of U-40 insulin for your pet while using the CarePoint Vet U-40 syringe.
CarePoint Vet U-40 1cc, 29G x ½" Insulin Syringe  Box/100
Lubricated high quality needle for smoother injection.
Needles are UV bonded to ensure stability.
Permanent barrel markings assure accurate dosing
Clear bold gradation for easy reading.
Easy to read tri-lingual packaging.
---
We Also Recommend
---